Your career starts now: Become part of our success!
"Put things into motion. Develop yourself. Open up prospects. Together, we are Umicore!"
Whether training, a completed course of studies or new prospects after extensive professional experience: There are many career paths and stations in life. People who want to be successful in their profession, develop their entire knowledge and skills and put things into motion are looking for a company that not only offers them work, but also responsibility and good prospects. Welcome to Umicore!
Become part of our team and start your career and development path with us now!


We are Umicore
Our corporate culture is characterised by open cooperation, free possibilities to shape your working environment and a friendly give-and-take. Our objective is to be a preferred employer to our employees. Gain your own impression of us.
Umicore has many faces - meet a few of them


Successful at many locations
More then 10,000 people work for Umicore worldwide at more than 60 sites. In Germany, we are represented at the following five locations:
Bad Säckingen
Essen
Hanau
Pforzheim
Schwäbisch-Gmünd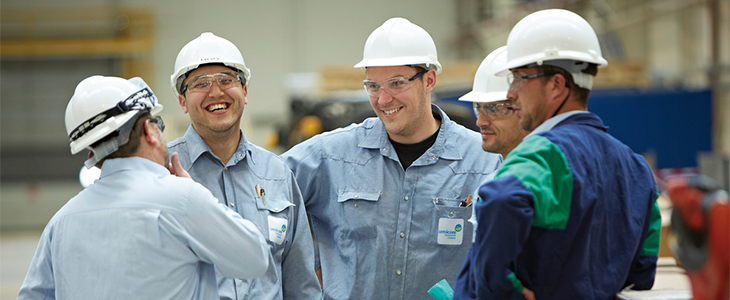 Job advertisements - pursue a career!
Pursue a career as a chemist, chemical laboratory assistant, process engineer or many other professions. Our jobs all have one thing in common – they open up career paths to you.
You are worth it - our services
We want you to feel good at your workplace. For us, this means more than just a good salary. You should therefore take a look at our benefits!
The Umicore way - what is important to us
Our actions follow the basic values of the "Umicore way." What we experience internally is also externalised.
Why Umicore - 10 good reasons in our favour
Together, we not only develop projects, but also your career. For this reason, your career path at Umicore is in the best hands. Let our top 10 good reasons convince you.
Excellent employer - we are top class in work-life balance!
Family consciousness and employee orientation are firmly anchored in our corporate and personal philosophy. This approach has won several awards. These awards give us incentive to continue to work on being our employees' preferred employer.