At Umicore, we prove again and again that the needs of our employees are a true concern to us. We not only talk about good cooperation between the employer and employee, we live it. With attractive remuneration and participation in the success of the company, a rich offering in the area of work-life balance and a long-term career development – honoured and certified by independent commissions for years.
Everyday life and work under one roof at Umicore
We are top class in terms of combining family and career. At Umicore, the L (Life) comes before the W (Work) - on all levels of the company. Umicore enables its employees to bring family and career together, not keep them separate. The berufundfamilie® (Career and Family) certificate, which we have regularly earned since 2007, show that the work-life balance is not just a buzzword at Umicore, but rather a matter of the heart.


Dr. Jessica Gomes-Jelonek
Technical Marketing Manager Precious Metals Chemistry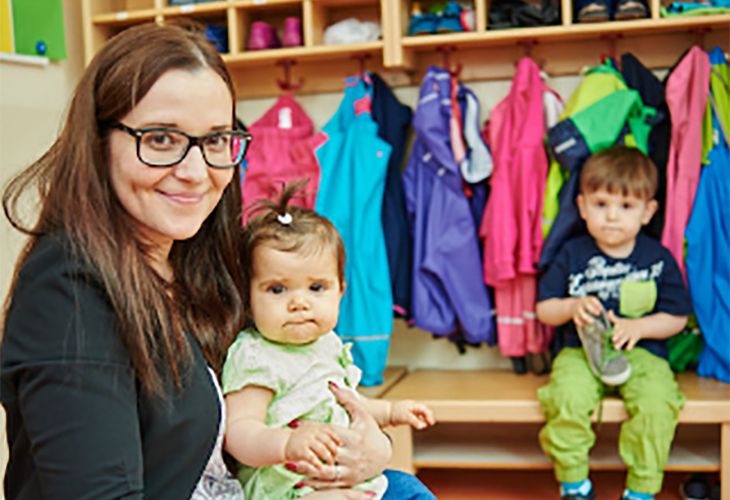 "The chemical industry is fast-moving and a lot changes within an extremely short time. For this reason, a fast re-entry after a six-month maternity leave was very important to me. Good child care, however, was essential. My husband travels a lot during the week for his job and our family lives far way – which is why Umicore's in-company daycare centre umikids is ideal for us.
I particularly value the family atmosphere, the affectionate childcare specialists, the high care ratio, the small group and the opening hours. Since the daycare centre is open from 7 am to 7 pm, I don't have to rush from one place to another in the mornings and evenings. The principle of being able to combine a family and career is truly lived in the entire company. My superiors and colleagues in the department also support my work-life balance. I was able to reduce my working hours to 60 percent for the re-entry and cooperation with everyone still works out very well – even if I can no longer be on site every day.
There are luckily enough possibilities to remain in contact, for example, by telephone, e-mail, chat, social networks and apps. In a part-time model, good timing and organisation of everyone involved is vital since pressure rises with fewer working hours. Sometimes we just don't have enough time, especially when there is a lot to do. Sometimes I log in in the evening or on my days off. It is important, however, that the situation pays off for me, my family and Umicore."