Umicore is looking for young, dedicated workers like you. Whether you come to us with an upper or intermediate secondary school leaving certificate or a good lower secondary school leaving certificate – we offer you a large variety of educational opportunities. In any case, however, the prerequisite for successful training is a love for natural sciences and a particular interest in the chemical industry.
The application comes before the training, however, and we want to help you with a few important tips – so that we can meet you personally as soon as possible.


Application documents
If you have decided on one of our trainee posts, you can apply with us for that post. To do so, use the online platform, if present. There you will also find the information you need to use the online method.
You are interested in a training at Umicore? Apply for it in our job center.


Components of the application documents:
Introductory letter, résumé, your last two transcripts
Certificates and certifications
Traineeship confirmations


Properties:
No spelling errors
If a photo is being included: no selfie, appropriate clothing. Scanned is OK
Pay attention to the correct addressing and contact persons
Do not forget your own contact data
Make sure you use a professional sounding e-mail address


Content and form of the introductory letter:
Please send us an expressive introductory letter. Do not send a depersonalised circular-type of letter that could be sent to any company!
Explain why you are the right person for our company and why you have selected us. We would also like to know why the selected profession is of particular interest to you and why you can use your talents for it.
The introductory letter should be one page long maximum.


Content and form of the résumé:
Send us a résumé in table form that also contains information about your parents and siblings. In addition, you should list your schooling and inform us of additional skills, special features and hobbies.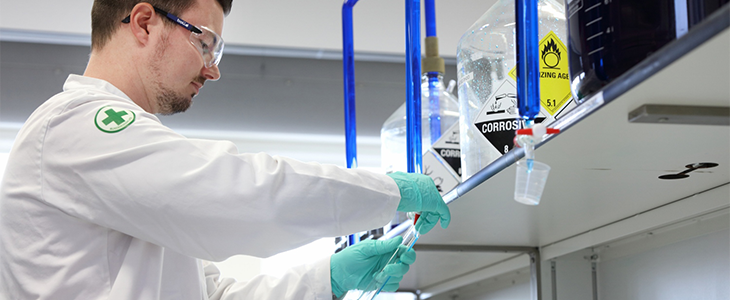 Aptitude test
It is possible to prepare for an aptitude test. You can study with corresponding books, for example. To take the test without stress, you should be punctual and bring a pen or pencil. During the test, do not let yourself get hung up on individual questions, but rather demonstrate courage to leave gaps. It is normal not to be able to answer all the questions in the given time. It will be fine.


Job interview
Preparation:
People who go into a job interview without preparation are making a mistake. Obtain information about Umicore. There is a lot of information on the Internet (you are already doing something right since you are on our page right now) or from our brochures. You should also gather information on the profession and know what tasks and possible activities await you. It is good to know the differences between similar professions (e.g., industrial clerk versus office management clerk). Obtain information in advance about current events in politics and the economy.
Optimum preparation also includes thinking about your last year of school, what you did that was particularly interesting, what went well and what did not go so well. Try to think of questions that someone could ask you and come up with arguments for these questions. It is best to make notes about everything.
Prepare yourself mentally for the job interview and have your parents or friends rehearse the situation with you.
In any case, you should be well rested and alert on the day of the job interview, know precisely how to get to our premises, leave on time and plan a time buffer.


During the interview:
What we pay attention to in particular:
Be punctual (bring the invitation with you, call in case of a traffic jam, etc.)
Turn off your mobile telephone!
Wear proper clothing
Secure, polite presentation (eye contact, proper pressure during the handshake, smile)
Proper behaviour (greet the interviewer, thank him or her, say goodbye)
Speak loudly and clearly and answer in complete sentences
Listen to others and show interest
Ask if you do not understand something
Be self-assured, but not arrogant
Argue clearly and logically, do not use clichés (e.g., "I am flexible")
If you are the right fit, you will hear from us in a while. It would be great if we got to know the real you.